Offender Reentry/Transition
The passage of offenders from prisons or jails back into society is referred to as reentry. According to the Office of Justice Programs of the United States Department of Justice, 641,100 prisoners were released from state and federal prisons in 2015. Another 10.6 million people are detained in municipal jails (Bureau of Justice Statistics, 2016).
Given that more than three-quarters of State offenders are re-arrested within five years of their release (Bureau of Justice Statistics, 2018), successful reintegration of formally incarcerated individuals returning to the community has become a critical aspect of correctional missions to improve public safety. Evidence-based methods are increasingly being reflected in approaches and programs, with the greatest impact on reducing recidivism rates being targeted those with a medium to high risk of reoffending and adapting services to fit specific needs. Breaking the cycle of reoffending and jail has numerous public safety and policy ramifications.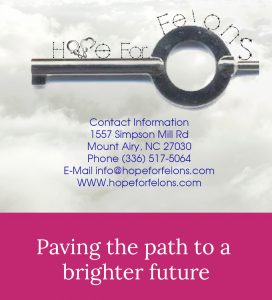 Our Mission
Here at Hope for Felons, we are driven by a single goal; to help Felons and their families by giving them the tools needed to reduce their risk of recidivism and to help the offender reintegrate into society by being a law-abiding citizen and to do our part in making the world a better place for all. Our decision-making process is informed by comprehensive empirical studies and high-quality data evaluation. We strive to build productive relationships and make a positive impact with all of our pursuits.
Founder
Hope for felons was founded on January 1, 2020, by D. VanVleet a felon, that was released from Federal prison and is now a Criminal Justice student. After the founder was released and saw a major need for rehabilitation that's when there was a decision to start Hope For Felons. Since most newly released inmates get a smartphone within days of release, the founder thought a good way to reach that community was to have a podcast on the related topics. The offender does not have to worry about transportation, and they can watch the podcast in their own free time.